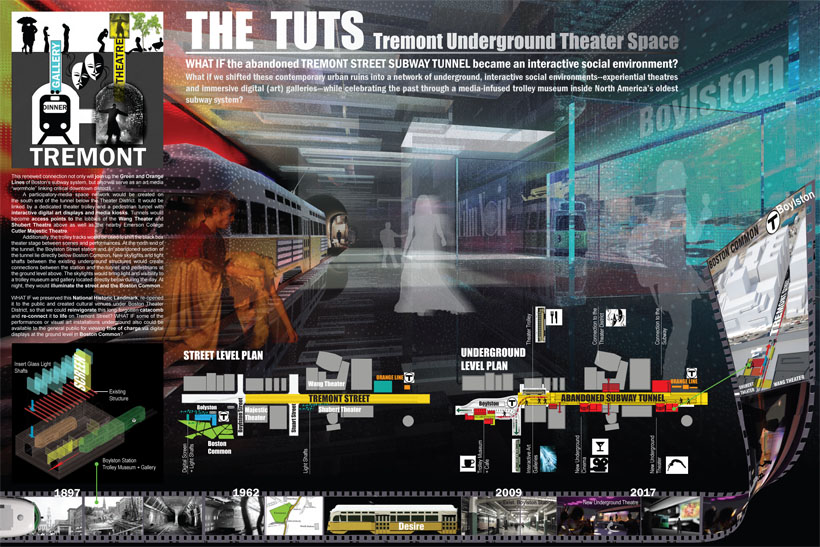 In Boston, a team of architects won the SHIFTboston Ideas Competition by re-imagining an abandoned subway station as an underground theater space. (Click to enlarge)
The history of New York City's subway system is littered with idiosyncratic sites. Amongst stop-and-start construction efforts, origins as three distinct companies and station expansion efforts, the tunnels underground feature their fair shares of hidden mysteries and abandoned stations. What to do with these shuttered stations has been a question long on the minds of urban planners.
For the most, New York's long-forgotten stations — meticulously documented here by Joseph Brennan and here at NYCSubway.org — are slivers of the past. The station at 91st St. and Broadway whizzes by in the blink of an eye. It, like the ones at 18th St. and Park Ave. South and Worth St., was closed when trains were lengthened and stations were suddenly too close together. Others — such as the abandoned platforms at Canal St. along the BMT Nassau St. line — are remnants of a Manhattan Bridge connection long shuttered. Still others, such as the famous City Hall stop, were beautifully designed stations that were simply impractical for passenger service. Astute straphangers know where to look for glimpses of the past.
In New York City, the city's approach to these stations has been to simply close them and allow urban decay to take over. Most are overrun with trash and graffiti and serve as shelters for those intrepid or foolish enough to brave a few hundreds yard in an empty subway tunnel. One in Brooklyn is the home of the Masstransiscope, an excellent Arts for Transit installation I profiled last year. Besides the 91st St. station that sits outside my parents' apartment building, the Masstransiscope is a prime example of an excellent use for an abandoned station.
The Big Apple is not alone in dealing with its neglected stops. In Boston, the subway system also sports hidden secrets of abandoned spurs and empty stations, and recently, a pair of architects have proposed turning the station into a museum and arts complex. As Metropolis Mag's Mason Currey notes, two designers won the SHIFTboston Ideas Competition with this proposal, and it's not such a far-fetched one at that.
In fact, we need journey only 13 years in our own city's history to unveil a similar proposal for the one-time Crown Jewel of the subway system. As Christopher Gray of The Times first reported in April 1997, the Transit Museum was going to open an annex in the City Hall stop. Using $2 million in Federal, city and state funds to renovate the station and prepare it for museum-goers, the Transit Museum had hoped to open the annex by 1998 and were anticipating more than 200,000 visitors per year to the unique space.
Unfortunately, Mayor Rudolph Giuliani had other ideas. Despite initially supporting the project when it was first announced in 1995, Giuliani quashed the plans in 1999, citing terrorism concerns over the station's proximity to City Hall. "The decision was predicated on security considerations," NYPD spokeswoman Marilyn Mode said at the time. "It's right under the building." With two other active subway stations in close proximity to City Hall, it sounded like a questionable excuse ten years ago and remains one today.
In the end, the Transit Museum spent $2 million to shore up the old station, and Museum members can now pay $25 for the unique privilege of attending tours of the old station. Still, as the 6 trains screech under the Guastavino Arches, the City Hall subway stop stands as an empty reminder of a plan that would better utilize an abandoned subway station. Maybe Boston can see fit to develop its unique empty underground spaces, and maybe New York could reconsider sprucing up the lost and forgotten bits of an extensive subway system.